Home

>
Holiday Cottages

>
Filbrenik in Dudleston Heath, Shropshire
Filbrenik is a large holiday cottage in Dudleston Heath, Shropshire.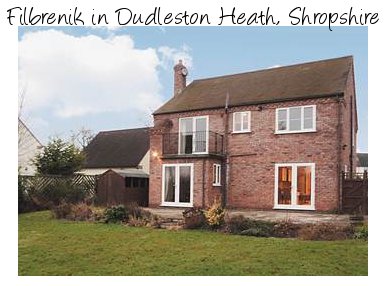 Filbrenik in Dudleston Heath, Shropshire
Sleeps 8 people
The holiday cottage of "Filbrenik" is a large cottage in the Shropshire town of Dudleston Heath. Sleeping 8 people in 4 bedrooms, Filbrenik makes a good destination for holidays with friends and family, or for those with a larger family. Filbrenik is on the border between Shropshire and Wales, and offers plenty of attractions around and about. Llangollen is just over the border into Wales, and has a steam trains and a horse drawn canal for you to try; or visit some of the local villages in the locality of Filbrenik: Chirk, Welshpool and Ludlow are all close by. The nearest shop and restaurant to Filbrenik are a couple of miles away, while the pub is a much more manageable 50 yards away from Filbrenik.
Other holiday cottages