Home

>
Holiday Cottages

>
Hylands in Brixham
Hylands in Brixham, South Devon - sleeps 6, available from Blue Chip Vacations. Pet Friendly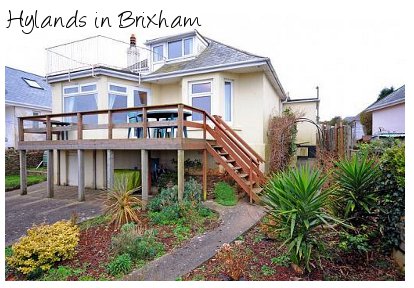 Hylands in Brixham
"Hylands" is situated in Brixham, and consists of a detached bungalow with a nice enclosed garden. The bungalow also has a balcony which boasts some fantastic views over Brixham harbour.
The bungalow has 3 separate bedrooms: the first has a double bed and an en-suite, while the other two bedrooms each have twin beds. The layout of the bungalow, with the three seperate bedrooms means that this property is ideally suited to families with children, or for groups of friends. You'll also be pleased to hear that "Hylands" is "pet friendly" - which means the most important member of the family can come along too!
Find out more about Hylands
A little more about Hylands
Hylands is situated about a 10 minute walk from Brixham Harbour and the town centre. You should be aware that this property is situated at the top of a hill - which gives you those lovely views - but this does mean the walk home is more strenuous than the walk to the town!
"Hylands" in Brixham is available from Blue Chip Holidays with reference code
Hylands
.
If Hylands isn't for you, have a look at other cottages from
Blue Chip Holidays
, you're sure to find a holiday cottage to suit you.
You can find out more details about
Hylands
, or for a full set of
holiday cottages around Brixham
.
Find out more about Hylands - including prices and availability...
Find "Hylands" on the map

Google Profile for John Ellis