Home

>
Holidays

>
Holiday cottages and gites from Cottages 4 You - added 5th September 2013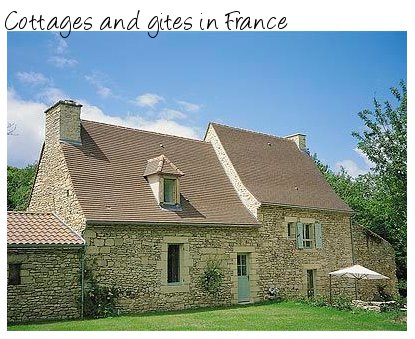 Gites and cottages from Cottages 4 You
France is always a good place to take a holiday - whether you fancy a couple of weeks in the south of France, or a short-break just over the channel, there's so many different types of gite holiday to choose from that there's sure to be something to suit your needs.
With the popularity of gites and cottages in France, we feel duty bound to tell you about all the latest holiday cottages and gites available. All the gites on this page were added on 5th September 2013; for the very latest, nip across to the latest
holiday cottages and gites
, you'll find the latest featured properties to choose from.
You can see the latest gites and villas from Cottages 4 You below, but there is one apartment to mention first,
Chez Francoise in Royan
on the west coast sleeps 6 people, and is a short walk from the beach, restaurants, marina, shops and bakery.
Or just have a little look below to see the holiday cottages and gites which were first featured here back on 5th September 2013...
Chez Viviane in Montagnac-la-Crempse, Dordogne
Puits Fleuri in Mauzens-et-Miremont, near Le Bugue, Dordogne
La Mastanniere in Les Adrets-de-l'Estérel
La Resistante in Mondrepuis, near Hirson, Aisne
Treglamus in Tréglamus
Les Chenes in Cercoux, near Guitres, Charente-Maritime
Preuilly-sur-Claise in La Roche-Posay
Beaucoudray in Villedieu-les-Poêles
Aubignan in France
Laborie - La Madeleine in Pontcirq, near Prayssac, Lot
La Rocheliere in La Rochelle, Charente-Maritime
Le Mont Albert - Le Grand Albert in La Sauvagère, near La Ferté-Macé, Orne
Villa Athena in Mandelieu, near Cannes, Alpes-Maritimes
Villa Pacifique in Perols, near Montpellier, Hérault
Vue du Lac in France
Residhome Val dEurope in Residhome Val d'Europe, Montévrain
Villa Veena in St. Privat-des-Prés, Dordogne
Romery in Guise
Anaise in La Forêt-Fouesnant, Finistére
Caisnes in Noyon
Scaer in Pont-Aven
Club Pinsolle in Soustons Plage
Beaucourt-sur-lAncre in Albert
Club Royal Ocean, Villa Four in Moliets, Landes
Hirondelles in St. Michel-de-Montjoie, near Sourdeval, Manche
Le Gite de Mont Berny in Pierrefonds, Oise
Kerfissien in Cléder
Chassaignes in Ribérac
Tassey in Chaunay
Merdrignac in France
Villa Laeta in La Valette-du-Var, Var
La Maison du Donjon in St. Alvère, Dordogne
Bouere in Sablé-sur-Sarthe
Becourt in France
La Chapelle St. Etienne in France
Club Pinsolle in Soustons Plage
Residence de Locean in La Tranche-sur-Mer
Bazentin in Albert
Chateau de la Gaubertie in St. Martin-des-Combes, Dordogne
Longchamp in Châtelaillon-Plage, Charente-Maritime
Residence le Mail Plage in La Couarde-sur-Mer, Ile de Ré
Club Pinsolle in Soustons Plage
La Bergerie in Mauroux, Lot
Les Bastides de Lascaux in Montignac
Haras Des Dorrells in St. Léonard-des-Parcs, Orne
Villa la Pinede in Montarnaud, Hérault
Le Bas Habit in St. Hilaire-du-Harcouet, Manche
Fonchave in St. Léon-sur-Vézère, Dordogne
Inxent in Montreuil-sur-Mer
Les Maisons du Lac in Saint Jean-de-Monts
Club Pinsolle in Soustons Plage
Mas du Poete in Saint Rémy-de-Provence, Bouches-du-Rhône
Renaze in France
Residhome Val dEurope in Montévrain
Poullaouen in Huelgoat
Moislains in Peronne, Somme
Domaine de la Corniche in Auberville, near Houlgate
Ceaux in Céaux, near Avranches, Manche
Le Petit Coquempot in Montreuil-sur-Mer, Pas-de-Calais
Keridouard in Plouha, near St. Quay-Portrieux, Côtes d'Armor
Cancale in France
Auchonvillers in Albert
Vinas in Lodève
Bougneau in Pons
Villas La Prade, Villa 1 in Villas La Prade EFF, Moliets, Landes
La Bastide Lulu in Marseille, Bouches-du-Rhône
La Maison Bois in Le Bougayrou, near Meyronne, Lot
Mohon in Josselin
Le Masdieu in Pleuville, near Pressac, Charente
Mallegalle - Mallegalle Haute in Sarlat, Dordogne
La Ferme de LErmitage in Bon-Encontre, near Agen, Lot-et-Garonne
LOree du Bois in Montauroux
Gardonne in Bergerac
Le Reve Bleu in Fleurac, near Rouffignac, Dordogne
La Grande Maison in Saint Felix, near La Bugue, Dordogne
Residence le Mail Plage in La Couarde-sur-Mer, Ile de Ré
Club Pignada in Soustons
Villa Chene Cieux in Roquefort-les-Pins, Alpes-Maritimes
Ploumoguer in Le Conquet
Club Les Chenes Verts in St. Raphaël
Saint Omer in France
Argeliers in Argeliers
Mariance in Le Somail, near Narbonne, Aude
Residhome Val dEurope in Montévrain
Benodet in France
Residhome Val dEurope in Montévrain
Honeysuckle Farmhouse in Monthault, Ille et Vilaine
La Chouette in Bonneville-la-Louvet, near Beuzeville
Caudebronde in Carcassonne
La Redorte in France
La Gloriette in Availles-sur-Chizé, Dampierre-sur-Boutonne
La Jacaranda in Loiré-sur-Nie, Charente-Maritime
Chez Kays in Palluaud, near Ribérac, Charente
Les Maisons du Lac in Saint Jean-de-Monts
Residence le Mail Plage in La Couarde-sur-Mer, Ile de Ré
Les Rives Marines in Le Teich
LAllee des Dunes in Ondres
La Domangere in Nesmy, Vendée
Les Lavandes in Gamotte, near Ginouillac, Lot
Gueyzat in Bourdeilles, Dordogne
Le Champ Marie in Villamée, near Fougères, Ille-et-Vilaine
La Maison Renard in Créhen, Côtes d'Armor
Floralie in Saint-Véran, near Beaumes-de-Venise
Caps Blanc Gris in Cap Gris Nez, near Wissant, Pas-de-Calais
Rueil-la-Gadeliere in France
Payzac in Hautefort
Le Beausset in France
Courtyard Cottage in Mauroux, Lot
Eden in Boutiers-Saint-Trojean, near Cognac, Charente
Villa Roc Pierre in Toulon, Var
Le Grand Bois - Cottage Confort in Gimouille, near Nevers, Nièvre
Le Grand Bois- Grand Espace in Gimouille, near Nevers, Nièvre
Freyssines in Mauzens-et-Miremont, near Le Bugue, Dordogne
Residhome Val dEurope in Montévrain
Le Gite du Poirier in Audrehem, Pas-de-Calais
Club Pignada in Soustons
Moussidiere in Sarlat-la-Canéda
Lucenay-les-Aix in Moulins
Club Les Chenes Verts in St. Raphaël
Residence de Locean in La Tranche-sur-Mer
Luynes in Tours
Le Pavillon de Grand Clos in Brain-sur-l'Authion, near Angers, Maine-et-Loire
Aux Quatres Vents in Fretay, near St. Germain-en-Coggles, Ille-et-Vilaine
Domaine des Sables - Villa 2 in Soulac-sur-Mer, Gironde
Domaine des Oliviers - Le Mas in Draguignan, Var
Aux Couleurs du Temps in Chalou-Moulineux, near Etampes, Essonne
Le Gite de Celestine in Lacroix-Saint-Ouen, near Compiègne, Oise
Club Pinsolle in Soustons Plage
Carsac-Aillac in Sarlat
Studio Villas - Aix-en-Provence in Studio Villas - Aix-en-Provence
Saint-Tropez in Saint-Tropez
Maison des Amis in Le Guislain, near Hambye, Manche
Labroye in Hesdin
Saint-Andre-de-Roquelongue in Narbonne
La Maison du Lac in St. Pée-sur-Nivelle, Pyrénées-Atlantiques
Clos Fleuri in Pons, Charente-Maritime
La Ronciere in Lalacelle, near Carrouges, Orne
Entre Vignes et Oliviers in Séguret, Vaucluse
Plonevez-Porzay in Douarnenez
Maison des Poules in Marles-sur-Canche, Pas-de-Calais
La Force in Bergerac
Segrie in Beaumont-sur-Sarthe
La Bergerie in Lavaysse, near Mauroux, Lot
Plaisance in Baignes-Sainte-Radegonde, Charente
Domaine de LEilen in Cavalaire-sur-Mer, Var
Ardeevin in France
Reville in St. Vaast-la-Hougue
Ty Scott in Trégomeur, Côtes D'Armor
Les Combes in Agonac, Dordogne
Domaine de la Grelerie in Saint-Geyrac, Dordogne
Les Coquelicots in Saint Felix, near Le Bugue, Dordogne
Chez Francoise in Royan, Charente-Maritime
Romfort in St. Romain, near Aubeterre, Charente
Cagnes-sur-Mer in France
Le Reve in Gourdon-Murat, Corrèze
Les Demeures de la Massane in Argelès-sur-Mer, near Perpignan
Carnoy in Albert
Domaine de la Corniche in Auberville, near Houlgate
Les Rosieres in La Pommeraie, Deux-Sèvres
La Cornuaille in Candé
Mimosa in Les Conches, near Longeville-sur-Mer, Vendée
Cerbere in Perpignan
Gracioza in Marmont-Pachas, near Astaffort, Lot-et-Garonne
Thouron in Compreignac
Residence le Mail Plage in La Couarde-sur-Mer, Ile de Ré
Club Pinsolle in Soustons Plage
Studio Villas - Aix-en-Provence in Studio Villas - Aix-en-Provence
Montpinchon in Coutances
La Maison Bleue in Pen-Bé, near Assérac, Loire-Atlantique
Le Mont Albert - Le Petit Albert in La Sauvagère, near La Ferté-Macé, Orne
La Bruyere in St. Pois, near Brécy, Manche
Les Bastides de Lascaux in Montignac
Lacondre in Lanne-en-Barétous, Pyrénées-Atlantiques
Les Fieffes in Montchamp, Calvados
La Vigne in Orgeval, near Laon, Aisne
Club Les Chenes Verts in St. Raphaël
Les Demeures de la Massane in Argelès-sur-Mer, near Perpignan
Les Demeures du Ventoux in Aubignan
Cote Cantegrit in Commensacq, near Labouheyre
La Longere in Fruges, Pas-de-Calais
Le Bois des Monts in Breville, near Ouistreham, Calvados
Ty Glaz in Pleuven, Finistère
Fouesnant in France
La Croix-Avranchin in Pontorson
Chasnais in France
Domaine des Oliviers - La Bastide in Draguignan, Var
Laborie - La Grange in Pontcirq, near Prayssac, Lot
Le Fief Marie in Bourras, near Jarnac, Charente
Les Passe Roses in Ile de Ré, Charente-Maritime
Mallegalle - Mallegalle Basse in Sarlat, Dordogne
Les Bastides de Lascaux in Montignac
La Grange in St. Sornin, Vendée
Maison Afilene in Ouveillan, near Béziers, Aude
Soubes in Lodève
Les Demeures de la Massane Argeles-sur-Mer in Perpignan
Domaine de la Corniche in Auberville, near Houlgate
Laurede in Ozourt, near Dax, Landes
Rostrenen in France
Paguignan in Aigues Vives
Traversay in Chaunay
Chateau-la-Valliere in France
Le Couty in Badefols d'Ans, Dordogne
Domaine du Val in Grand Laviers
Club Pignada in Soustons
Club Les Chenes Verts in St. Raphaël
Residence de Locean in La Tranche-sur-Mer
Merlimont in Le Touquet
Notre Dame dOe in France
La Source Tranquille in Mouy, Oise
Find out more
Latest cottages and gites - read all about it
With so many cottages and gites, it's not surprising that new gites come and go with Cottages 4 You all the time. So to keep up with the latest cottages, have a little look at the new French holiday cottages below: