Home

>
Holidays

>
Manor Cottages - holiday cottages in the Cotswolds added 31st December 2012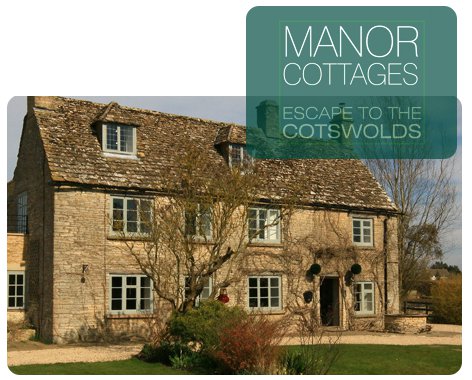 Find a cottage from Manor Cottages
There are a whole lot of holiday cottages from "Manor Cottages" which were first featured by us on 31st December 2012. This isn't really surprising, as it's the first time we've featured Manor Cottages before!
Manor cottages have a whole host of holiday cottages all around the Cotswolds, so if you're planning to head to Gloucestershire for your next cottage holiday, Manor Cottages could be the people to see. The list of cottages is below, but one particular cottage we'd like to draw your attention to is
Yew Tree Farmhouse
, this massive holiday cottage sleeps 14 people, and makes an ideal place to take a holiday with friends and family. The other new holiday cottages can be found in Oxfordshire, Gwent, Wiltshire, Gloucestershire, Gloucestershire County, Herefordshire, Somerset, Avon, Warwickshire, Bath and North East Somerset, and Worcestershire.
So there we go, that's Manor Cottages. And below are all those holiday cottages...
The Coach House in Swinbrook
Coed-Y-Gelli Cottage in Llanarth
Stable Cottage in Castle Combe
Tagmoor Hollow in Bourton On The Water
The Planters Studio in Eastleach Downs
Thames Cottage in Somerford Keynes
Malt House Cottage in Newent
Peter's Nest Cottage in Owlpen
Mayfly Cottage in Coln St Aldwyns
The Loft in Colerne
Tallet Barn in Little Rissington
Old Forge Cottage in Stow On The Wold
Westhall Manor in Burford
Bobble Cottage in Bourton On The Water
High House Cottage in Clanfield
Granary Cottage in Swerford
Noel Cottage in Chipping Campden
Star Barn in Fulbrook
The Old School House in Stow On The Wold
Shrove in Chedworth
The Game Larder in Walford
Waldrons Barn in Brinkworth
Honeysuckle Cottage in Fulbrook
Weather Vane Cottage in Lyneham
The Stables, Edgerly Farm in Clanfield
Lime Tree in Burford
The Den in Hailey
6 St George Yard in Burford
Start Box Cottage in Great Witcombe
Grosvenor Place Apartment in Bath
Bow House Cottage in Bourton On The Water
The Hide in Somerton
Rivers Street in Bath
Jubilee in Bibury
The Old Chapel in Swinbrook
The Tack Room in Stratford Upon Avon
The Coach House in Sellack
Dairy Cottage in Leigh
Pheasant Cottage in Old Minster Lovell
Shepherd's Cottage in Shipton Under Wychwood
The Old Ann Cam School in Dymock
Peats Cottage in Great Witcombe
Lilac Cottage in Bibury
The Paddy in South Cerney
The Little House in Compton Abdale
Japonica Cottage in Bourton On The Water
The Potting Shed in Daylesford
Gables Cottage in Bibury
Honeysuckle Cottage in Sutton Under Brailes
Lower Barn Cottage in Winson
Lavender Cottage in Bibury
Lakeside Cottage in Cranham
Keen's Cottage in Kingham
Manor Farm in Owlpen
Forget Me Not in Lyneham
Priory Cottage in North Stoke
Oak Tree in Leafield
The Lodge in Coln St Aldwyns
Wisteria Cottage in Milton Under Wychwood
Vine Cottage in Burford
Oakmead in Moreton In Marsh
Primrose Cottage in Lyneham
Newbury Cottage in Bourton On The Water
Bakehouse in Aston
Footstool Cottage in Fulbrook
Bullens Bank Cottage in Hay On Wye
Calcot Peak Barn in Crickley Barrow
Henmarsh Cottage in Barton On The Heath
Upper Mill Barn in Coln St Aldwyns
Blenheim Way in Moreton In Marsh
Village Farm Cottage in Priston
Cotstone Cottage in Milton Under Wychwood
Bluebell Cottage in Lyneham
Pound Cottage in Lower Slaughter
Lower Moor Lodge in Hay On Wye
Temple Mews in Broadwell
Rose Cottage in Bledington
South View Cottage in Little Rissington
Cleeveley Cottage in Holwell
Robbie's Barn in Fulready
Bath View in Bath
The Garden Cottage in Willesley
Penny Royal in Somerford Keynes
Shepherds Hay in Stanton
Penny's Peace in Norton St Philip
Corner Cottage in Burford
Orchard Cottage. in South Cerney
Parkleaze Farm in Ewen
Hillside Cottage in Swerford
The Court House in Owlpen
Cotswold Cottage in Coln St Aldwyns
Big Stalls in Kemble
Reevey Garden Cottage in Kempsford
The Haven in Shipton Under Wychwood
Tide Cottage in Somerford Keynes
Charlie's Cottage in Epwell
The Reeds in South Cerney
Stables in Shottery
The Dower House in Uley
Apple Tree Cottage in South Cerney
Hayloft Cottage in Lyneham
Honeysuckle in Daylesford
Kite's Gate Cottage in Kingham
Jackdaws in Somerford Keynes
Talbot Cottage in Stow On The Wold
Stone Wheel Cottage in Hook Norton
Buttercup Cottage in Somerford Keynes
3 The Bank in Broadwell
Church Cottage in Burford
Wilton Cottage in Bibury
Waterhaze in Somerford Keynes
Daisy Dell Cottage in Kingham
Kingfishers Cottage in Somerford Keynes
One The Foundry in Parkend
Clematis Cottage in Freshford
The Moorings in South Cerney
Woodwells Cottage in Owlpen
The Cottage in Moreton In Marsh
Heron Cottage in Somerford Keynes
Two The Foundry in Parkend
Pear Tree Cottage in Stow On The Wold
Ash House in Somerford Keynes
Somerford Cottage in Great Somerford
Burycroft Farm in Crawley
Elmhurst Cottage in Lower Quinton
The Pantiles in Doughton
Hawfinch Cottage in Somerford Keynes
Tew Cottage in Great Tew
The Old Stores in Ledbury
Primrose Bank in Somerford Keynes
Lodge.. in Whichford
River Cottage in Somerford Keynes
The Skydeck in Somerford Keynes
Number 8 Howells Mere in Somerford Keynes
The Folly in Badminton
Lawrence House in Somerford Keynes
Tithe Barn in Lyneham
West Cottage in Bourton On The Hill
Grist Mill in Owlpen
Mucky Cottage in Naunton
Mere Coach House in Fairford
Llangain Farmhouse in Hay On Wye
Merlin House in Somerford Keynes
King Johns Barn in Leafield
Reid Villa in Somerford Keynes
Lakeside House in Fossebridge
Foxcote Farm in Bledington
Botany in Somerford Keynes
Villa Brook in Somerford Keynes
Nuthatch in Somerford Keynes
Owl Barn in Chimney
Rectory Cottage in Alvescot
Spinney Falls House in Somerford Keynes
Chehondo in Somerford Keynes
Ducklings in Somerford Keynes
May House in Poulton
Malt Barn in Upper Brize
Meadowbank Farm in Lew
Wick Court in Arlingham
Lane House Farm in Shipton Under Wychwood
Goslings in Somerford Keynes
Snipe Barn in Chimney
Harvest Barn in Stonesfield
Yew Tree Farmhouse in Hannington Wick
Old School Cottages in Lyneham
Rigside House in Little Compton
Home Farm (13) in Cokethorpe
Doughton Manor Barns in Doughton
Home Farm (16) in Cokethorpe
The Old Hundred Mansion in Tormarton
Chimney Farm Barns in Chimney