Home

>
Holidays

>
Suffolk Secrets - holidays added on 15th February 2013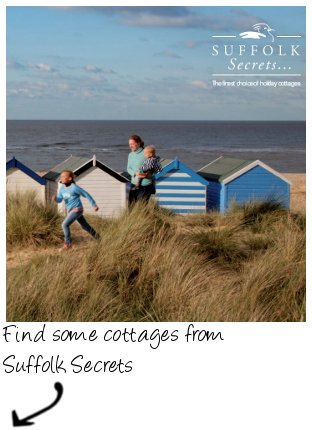 Latest Suffolk Secrets holiday cottages
What we have here is the latest holiday cottage added to the "Suffolk Secrets" holiday cottages in the week of 15th February 2013. There are 4 new holiday cottages to report on in this week, with a couple of holiday cottages in the Suffolk coastal favourite (and home to Adnams brewery),
Southwold
. And another couple of cottage further south: with one being near Dedham and the other being closer to Ipswich. You can see details of all four of the
latest cottages
; but before you do that, I'd like to draw attention to that holiday cottage near Dedham.
The Grand Farmhouse
is the holiday cottage in question - well it's a farmhouse more than a cottage - what is important though is that The Grand Farmhouse sleeps 22 people. Now, that is a lot of people. There aren't too many cottages out there which sleep that many people. The Grand Farmhouse is a 17th century building, with plenty of space outside to enjoy too. Well worth a look for those who are planning a holiday away with friends and family.
Anyway, let's get back to the four new cottages. Have a look below for details of these new cottages.
The Grand Farmhouse in Dedham
Red Brick Barn in Ipswich
8 The Craighurst in Southwold
23 Tibby's Way in Southwold